Emerging Practices in Post-Secondary Education Reinforce Academy of Learning College's Methods of Learning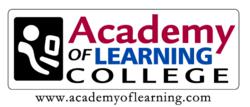 Career colleges continue to gain government and industry approval.
Author Thomas Frey, appearing in the CBC documentary "Generation Jobless," outlined how the job market has and will continue to change. He cautioned that, in order to prepare for the future, workers will have to be constantly upgrading their skills to stay on top of the needs of our new economy. In essence, post-secondary schools must recognize the demands of the current job market in order to provide necessary training to ensure students develop the skills that today's businesses need.
A recent article in the "Brantford Expositor" forecasted the future of post-secondary education in Canada. Author Rob Rombouts wrote, "The definition of post-secondary education also will have to change to include private career colleges, large publicly funded schools and learning outside of the walls of the school. Even skills or lessons taught through work experience or in online courses could be part of the education system."
Leading the evolution, Academy of Learning College (AOLC) was the first Private Career College to deliver online virtual classrooms across Canada, to-date specializing in the ever-increasing healthcare sector, with Medical Office Administration and Health Unit Coordinator diploma programs. AOLC expanded with ministry approval in several provinces this year to additionally deliver Community Service and Addictions Worker Programs. Furthermore, many of their programs include a work placement, which provides the very opportunity for onsite experience with an employer which Rombouts hypes.
Mirroring Rombout's sentiment, the Ontario Association of Career Colleges (OACC) issued a press release last year highlighting the cost-effective contribution career colleges make to the delivery of post-secondary education and the development of the province's labour force.
"Academy of Learning College has been a Private Career College for over twenty-five years. With programs in business training, healthcare training, and information technology, we are honoured to be a part of the Career College Sector which increases student choice, meets employer needs, and delivers economic growth through tax savings and new tax revenue," said Heidi Collins, Director of Marketing and Sales.
The complete "Brantford Expositor" article can be read at http://www.brantfordexpositor.ca/2013/03/27/face-of-post-secondary-education-is-changing.
Source: http://www.prweb.com/releases/2013/4/prweb10589008.htm