Champlain RAC Wins 2012 Canadian Recognizing Learning Award
Champlain College's RAC initiative earns incredible distinction from CAPLA.
The Recognition of Acquired Competencies (RAC) service at Champlain College Saint-Lambert received the Canadian Recognizing Learning Award. Presented by The Canadian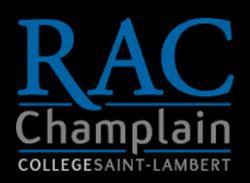 Association for Prior Learning Assessment (CAPLA), the award celebrates accomplishments made in the field of prior learning assessment and qualification recognition.
Champlain College Saint-Lambert launched its RAC services in 2009, thus being able to grant academic credits to people who have attained competencies from previous training or who have direct professional or applicable life experience. The RAC service allows those without a formal attestation to be recognized for their industry knowledge and skills. Along with the assessment process, RAC candidates can benefit from a range of services, including seminars, availability time with content specialists, tutoring, and mentorship.
The college has distinguished itself in the field of RAC by the various groups it has designed specific RAC services for, including:
    Businesses
    Immigrants
    First Nations
    Individuals already working
Although only three years old, the RAC service at the Champlain Saint-Lambert has already managed to grow significantly. "The college has welcomed 386 candidates in 5 different college programs offered through RAC," says Don Shewan, Campus Director at Champlain Saint-Lambert. "In terms of developmental work, the efforts to provide training to remove the gap between what the adult knows and needs to know is the most unique and significant piece, particularly as it allows adults a variety of different opportunities."
Among RAC's most appealing features is the flexibility of the services, as well as the administration's ability to adapt the services according to each candidate's strengths, needs and career goals. "Since [2009], we have invested almost $500,000 in the development of tools for both the assessment and the development of a variety of learning opportunities to assist learners," says Don Shewan.
From the time it started, the RAC enrollment rate has seen an average increase of 132 per cent each semester, which has led to an ever increasing number of RAC professionals and content specialists being hired by the college to meet the program demands. With services options in constant development, RAC can expect to see continued growth in the coming years.
About Champlain Regional College
Champlain Regional College is the only English-language public CEGEP in Quebec with three locations. The Lennoxville, St. Lambert, and St. Lawrence campuses offer a wide range of pre-university and technical programs, as well as extensive on- and off-campus continuing education services. Through each campus's particular history, culture and traditions, Champlain College's unique multi-regional structure responds to the needs of diverse linguistic and cultural communities, and contributes to the educational and socio-economic development of Quebec.