Academy of Learning College Unites with Other Career Colleges to Save Taxpayers One Billion Dollars
Recent OACC study confirms that the Career College sector brings minimal costs to taxpayers.
Career Colleges in Ontario and across Canada save taxpayers money while simultaneously generating opportunity and jobs for thousands of individuals. Academy of Learning College is proud to be a part of post-secondary education, which is a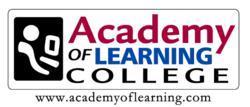 cost-effective contribution to our economy.
The Ontario Association of Career Colleges (OACC) issued a press
 release at the beginning of October 2012 highlighting the cost-effective contribution career colleges make to the delivery of post-secondary education and the development of the province's labour force.
According to the economic impact study conducted by OACC, "The Career College sector in Ontario currently offers more than five-thousand programs at over six-hundred campuses in seventy communities. It employs twelve-thousand staff, and annually produces approximately fifty-thousand skilled graduates at a minimal cost
 to taxpayers, due to the fact that Career Colleges receive no direct operating funds from the government. By choosing to study at a Career College, those fifty-thousand graduates save taxpayers more than $1 billion per year. At the same time, the Career College sector generates more than $94 million in business and payroll taxes."
The study goes on to say that the Career College sector is efficient, productive, flexible, innovative and accountable, which is why each year more than sixty-seven thousand new students choose to enroll in one of Ontario's six hundred career college
s to fully utilize the resources of our 144 year-old career college sector.
Unlike many other Private Career College's (PCC), Academy of Learning College is national, which means that the benefits to the taxpayers and provincial governments multiply as you travel across the country. From British Columbia to the Maritimes, Academy of Learning College provides work for hundreds of staff, develops graduates who are the choice of employers, and creates tax revenue, thereby strengthening our Canadian economy.
"Along with many other PCCs, Academy of Learning College is honoured to be a part of the Career College sector, which increases student choice, meets employer needs, and delivers economic growth through tax savings for our over-burdened taxpayers, while simultaneously generating much-needed new tax revenue," said Heidi Collins, Director of Marketing and Sales.
Academy of Learning College offers a wide variety of both part- and full-time study options, including Administrative Assistant and web design courses, as well as more in-depth career programs, such as Business, Healthcare, and IT Technician training programs.
Read the complete PDF of the OACC economic impact study.